Interoperability Programs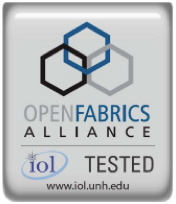 The OFA Interoperability Working Group (IWG) conducts interoperability testing in partnership with the University of New Hampshire InterOperability Lab (UNH-IOL). Software, server, storage and network vendors, OEMs and Systems Integrators whose products support and utilize OFED participate in this transparent process that allows other OFA members to observe all tests.
The OFA Interoperability Program consists of two Debug events and two Logo events each year, scheduled approximately every three months. Debug events are intended to enable hardware vendors to test interoperability of new and existing products with the latest OFED release candidate using the UNH-IOL based Cluster with InfiniBand, RoCE, and iWARP endpoints, switches, and storage devices. Logo events follow Debug events and serve to document interoperability using official release versions of hardware vendors' products, firmware, and OFED releases.
Products that pass these tests are granted the right to use the OFA Interoperability Trademark, providing they have a license for its use. Test results for all products that earn the OFA Interoperability Trademark are available to the public here. Please consult the OFA's logo program documentation and OFA Logo Agreement for permission and guidelines for using the Interoperability Trademark.
For updated information on upcoming IWG meetings and interoperability testing events, visit the OFA Calendar page.