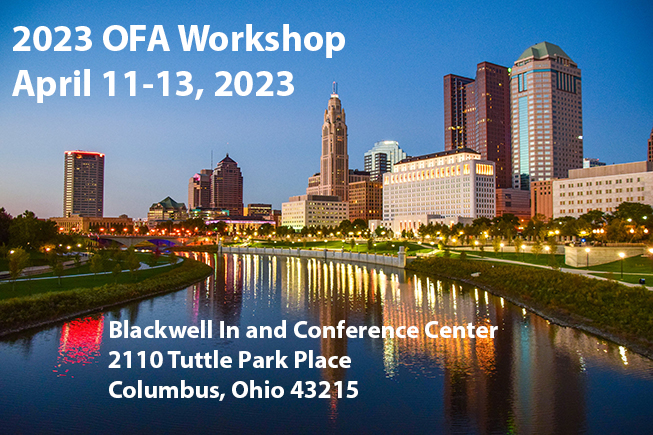 About the Workshop
The 19th annual OpenFabrics Alliance (OFA) Workshop will be taking place in Columbus, Ohio, April 11-13, 2023. Returning to its traditional in-person format, the Annual OFA Workshop is a premier means of fostering collaboration among those who develop fabrics, deploy fabrics, and create applications that rely on fabrics. It is the only event of its kind where fabric developers and users can discuss emerging fabric technologies, collaborate on future industry requirements, and address problems that exist today.
Call for Sessions:
The OFA Workshop 2023 will focus on the following overarching themes that cover advanced network technology, innovative networking approaches, and the open community:
Artificial Intelligence and Machine Learning

Broader Ecosystem, Community, and Standards

Composable Infrastructure

Hardware Accelerations and In-Network Compute

High-Performance Software

Network Protocols and Technology

State-of-Practice

Other Topics in High-Performance Networking and Computing
Deadline to submit is January 24, 2023, at 5:00PM PST. To submit a speaking proposal, visit the Call for Sessions page.
Registration & Lodging:
Registration is now open for the OFA Workshop 2023. Register before March 20 to take advantage of Early Bird pricing.
To register and book your room for the upcoming workshop, visit the Registration and Lodging page.
Sponsorships:
Sponsorships are available for OFA members to show your support of the Alliance's mission to accelerate the development and adoption of advance fabrics for the benefit of advanced network ecosystems. If interested, visit the Sponsorships page. 
Questions? Contact press@openfabrics.org.