Annual Workshop Renews Emphasis on Collaboration within OpenFabrics Community
The 14th Annual OpenFabrics Alliance (OFA) Workshop, held in scenic Boulder, Colorado, recently concluded its week-long, community-wide collaboration and dialogue on OpenFabrics. As the premier means of fostering lively discussions among those who develop fabrics, deploy fabrics, and create applications that rely on fabrics, the Workshop is the ideal venue for the OpenFabrics community and networking industry at large to identify and address the wide variety of emerging industry requirements and challenges that remain.
Collaboration is Key
The Workshop kicked off with its inaugural OFA Think Tank effort. The new OFA Think Tanks allow groups of attendees to explore and dissect an existing industry "Grand Challenge" as facilitated by expert moderators. This year's Think Tanks covered three pressing topics within the fabrics community – Linux Containers, Remote Persistence Memory, and Systems Administration and Interoperability of Diverse Fabrics. The Think Tanks resulted in extremely valuable industry dialogue and direction setting, including the creation of a new OFA System Administration Working Group.
You can find links to the Think Tank report outs as well as mailing list information for monitoring each group's progress and contributing to the overall discussion below:
The next day featured a keynote speech by Intel's Bill Magro on "Software Foundation for High-Performance Fabrics in the Cloud." Mr. Magro, an Intel Fellow and Chief Technologist in HPC, discussed the growing needs associated with Artificial Intelligence (AI) and High Performance Data Analytics workloads in the cloud. The talk highlighted the broadening role of OpenFabrics and detailed OpenFabrics Interface rising to the challenge to meet emerging industry requirements and become the software foundation for high performance cloud fabrics.
A Workshop Focus on "Networking"
Along with the Think Tanks, the OFA Workshop rolled out several other new networking focused activities, including Birds of Feather (BoF) sessions, Meet the Experts tables and Lightning Talks. With such an emphasis on community collaboration this year, these new Workshop elements provided attendees with a forum to voice their opinions, learn, and network with others on the latest technology trends in advanced networks.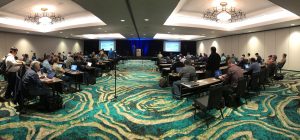 The dual track BoFs allowed participants to hold an open conversation with experts and other attendees on critical topics, such as NVMe over Fabrics and OFA OS Distro testing, the SNIA NVM Programming Model, and ISO C++ Standardization of Fabrics. These were followed by the widely popular Meet the Experts tables, which gave attendees the opportunity to engage with thought leaders on a wide range of subjects, from AI and data center fabrics to system administration and remote persistent memory. To switch up the pace from our core technical sessions, the OFA also added Lightning Talks that were  intended to provide attendees an opportunity to deliver short, fast-moving updates on new and novel ideas. The 2018 Lightning Talks showcased a RoCE HPC use case, an introduction to a new routing algorithm, a fabric topology analysis update as well as an RDMA project overview from local students at the University of Colorado Boulder.
Furthermore, as part of the organization's ongoing effort to foster inclusiveness and solicit valuable insights from the wider OpenFabrics community, the OFA would like to announce Harold Cook of Lightfleet Corporation as its new At-Large Board member.
Workshop Content Now Available
As an open source organization, the OFA freely publishes the resulting materials of each annual Workshop for the benefit of the wider networking community. You can find the complete collection of this year's Workshop presentations on the OFA Workshop 2018 page, or watch videos from the Workshop on insideHPC's OFA Workshop Video Gallery.
As the OpenFabrics community and networking industry continues to evolve, so too will the annual OFA Workshop to ensure that all opinions, voices and inputs are heard, considered and built upon. The OFA values collaboration among its members and the community as a whole. If you have any questions about the OFA Workshop or input on how to make the next gathering even stronger, please email press@216.137.189.21.
Thank you to the 2018 OFA Workshop speakers and attendees for their excellent cont